Per la tutela e la diffusione della lingua e della cultura italiane nel mondo
Dante Alighieri Society of Santa Cruz
Dedicated to the Study and Promotion of Italian Culture and Language
The Dante Alighieri Society of Santa Cruz is a 501(c)(3)corporation.


November 12, 2017, 7pm
Cabrillo College campus, in VAPA building 1000, Art History Forum room 1001
Matrimoni e altri disastri (Weddings and Other Disasters)
Director: Nina Di Majo, 2010.
Disappointed in love, Nana (Margherita Buy) lives as a single independent woman. When her younger sister Beatrice (Francesca Inaudi) decides to get married at short notice, but has to leave for a business trip, Nana agrees to organize the wedding with the assistance of her future brother in law, Alexander (Fabio Volo). But with the return of Bea it turns out that not everything is as it seems and the marriage is suddenly at risk. Margherita Buy, an Italian screen legend, was nominated for a best actress award for her work in this engaging comedy. 102 minutes

The Dante Alighieri Society of Santa Cruz has awarded two scholarships of $1,000.00 each to Cabrillo College students Renata Zacarias and Chloe Nelson! More info here

Congratulations to our 2017 Massimo Gelato winners, Judy Garrison and Sandi Spanfelner. To be eligible for the drawing, which was held Jan 29 at the Dante film, memberships had to be renewed by Dec 31, 2106. Complimenti!







Like us on Facebook!

P.O. Box 4253
Santa Cruz, CA 95063
E-mail: dantesantacruz1265@gmail.com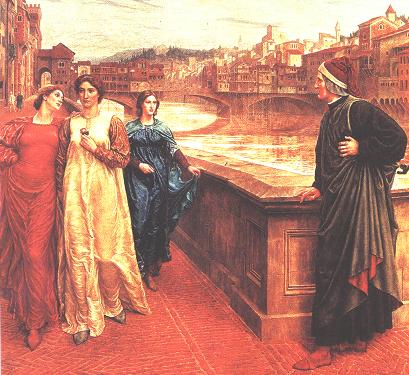 Dante e Beatrice sul Ponte di Santa Trinita a Firenze, by Henry Holiday (1883)
Santa Cruz website created by Janet Herman
www.folkplanet.com